A few weeks ago, Lacey told me that she really wanted to go to San Diego to see an upcoming Rihanna concert.  Being that we just used all of our flight and hotel rewards points to book our Final Four and Malta trips, I didn't think this would be possible on such short notice.  My initial response to Lacey was "I'm sorry, we just can't afford it right now."  A day or two later I realized what an asshole response that was since I hadn't even investigated our potential rewards options yet.
Rather than spending time on my acceptance speech for the shittiest husband of the year award, I decided to hop on the computer and see if there was any way to make this trip happen.  After all, Lacey was amazing enough to let us use some of our rewards points and cash on our upcoming trip to Houston for the Final Four, so I needed to do my absolute best to return the favor.  I began searching for any rewards programs that might help us get to San Diego for free or at a discount.  Not kidding, it took me less than 10 minutes to find an option that would get us round trip flights from Boise to San Diego for $87 ($75 sign up fee and $12 taxes and fees while booking the flights).  More importantly, this option was doable on short notice.
Below is the process I used to help us save over $400 on flights which ultimately made this trip possible for us…
…oh and spoiler alert, at the end of this post is a video of Lacey dancing to Rihanna on Halloween last year.
As usual, I started with Google.  I typed in "Boise to San Diego Flights".  The returning results let me know which airlines we could use (Alaska, American Airlines, United, and Delta).  I noticed that Alaska Airlines offers a non-stop flight, so I immediately Googled "Alaska Airlines Rewards Program".  I was looking for the current Alaska Airlines credit card offer and for the booking section on Alaska's site that would show me if there were available flights on the dates we needed, and if so, how many rewards miles we'd need to book 'em.
I found that the current rewards offer for this card is 25k miles "upon approval".  That's amazing! More often than not, rewards cards like this have spending requirements that can takes 2-3 months to achieve.  This card gives you the points "in 2-3 weeks" following your application approval.  Perfect for a short notice trip!
While snooping in the booking section on Alaska's site, I found that there were round trip flights Boise-San Diego on the dates we needed that cost exactly 25k bonus miles.  Heyo!  I immediately submitted our applications for this rewards card.
We received the bonus points in 12 days and were able to book our highly discounted flights for $12.  Again, the sign up fee for this card is $75, so our total cost is $87 for these flights.  Still a lot better than the $500-ish we would have paid for full price tickets.  We used the extra money saved on these flights to get some pretty decent seats for the Rihanna concert.
To keep the rest of the trip budget friendly, we'll be staying at the Hampton Inn near the Gaslamp district.  Why this hotel? I know it doesn't sound super luxurious, but it has an airport shuttle, free hot breakfast, and is super close to the public transport station that we'll be taking to the concert.  This hotel is also within walking distance of all the restaurants and bars we're hoping to check out. All of these perks combined will likely save us another $200-$300 on our trip.
So it looks like we'll "shine bright like a diamond" with Rihanna in a few weeks down in San Diego.  Hopefully the weather is beautiful and we won't need to take an umbrella-ella-ella-ay-ay.  …I'm such a dork sometimes I make myself want to hide under a table.
Hopefully you found this useful and can use the process outlined above to book your own vacay on short notice.  For more tips and options, check our previous post relating to this subject here.
We'll see you soon San Diego!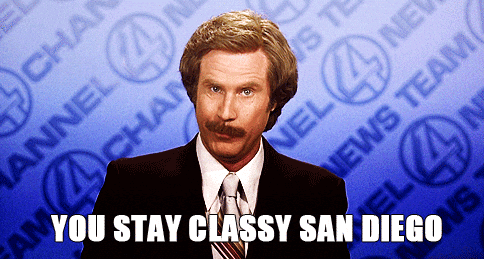 As promised, an awesome video of Lacey Killing it to Rihanna on Halloween last year.  …dressed as a Day of the Dead.
3
Peeps liked this so far.